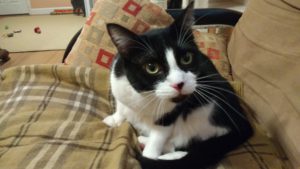 Ok folks, CAT is back and needs a home due to special circumstances. Would you like to adopt CAT? This pretty lady has a very sad story, but we want to make it happy again. You can tell by her friendly behavior that she was very much loved.
Unfortunately, her home life has been unstable. She and a kitty friend lost two homes through no fault of their own. Most recently because her owner could not take care of her any longer. It's been a rough ride for a girl less than three  years old. Now, she's alone and needs a forever family.
She's young, 2 yrs and 9 months. She's active, mischievous, smart, quick-moving, and a big handsome kitty with a heart on her nose. Are you a cat parent who has raised teenage cats and knows what we mean? She's affectionate and loving too. She loves toys, as  you can see in the video.
She lived with another cat and got along fine. We expect she could do so again with time and proper introductions. She is not a submissive little girl though. Running the show is more her style. Of course, she'd love to be an only cat with all of your attention too.
We're still assessing how well she'll do with a friendly, gentle dog. Our little shelter dog is a great helper and speaks cat quite well. They are doing fine together. She has only met this one small dog as far as we know. We'll be cautious, but we see no problem with placing her in a home with a dog that's proven cat friendly.
CAT's past homes have been with adults or a single adult. Honestly, she seems to love everyone. She craves lots of interactive playtime with wand toys. If you want a cat that will respond to the wands and feathers and toys you dangle at her, this girl will keep you entertained! She even been known to do a back-flip when she gets excited.
CAT is spayed, current on vaccinations, microchipped, and combo tested (negative/negative). Do you have the experience and patience for a teenager in the house? Are you the person who's proud of your cat's intelligence, instead of annoyed that you had to buy a child lock for the closet or a scat mat for the patio door? You'll be a great match! Know someone who fits with this type of kitty? This smart pretty lady will reward you with love, entertainment, and lots of fun.
We are in Austin, Texas. We only adopt within the Austin Texas Metro area (all surrounding communities are fine–no out of state, shipping, etc.). Please,  email us to receive an application and set up a time to meet Cat.
This girl loves to play in water too! Just look at her. First one to fish for the automated fish in a pan of water.
Save
Save
Save
Save
Save
Save
Save
Save
Save
Save
Save
Save
Save