Please take a few minutes to read and understand our adoption process. We want to make it a great experience for everyone.
All animals available for adoption are current on vaccinations, spayed or neutered, and have been under the care of a veterinarian while in our program. We do not charge extra for those that required substantial medical care prior to adoption.
We understand that everyone is anxious to take their new family member home. There's nothing more exciting than starting a new life together!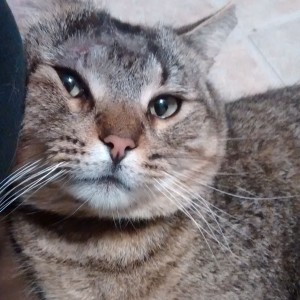 We want all adoptions to be safe, permanent, and successful. With that in mind, we do all we can to insure a good match for you and your lifestyle, as well as our feline friends that need a furrever home. We even offer a free pet safety consultation (kind of like childproofing ideas, only for pets).
Because we only accept animals that required medical care or rehab, you get a kitty that we know well. He/she has current medical records, and our vet has thoroughly examined him. Our adoption fee is a very reasonable $35.
Yes, there are free kitties available from lots of places. Many of them have not needed medical care or rehab from an injury.
We never get back anything close to what we pay for their care. So really, $35 is not much. We want to know that this adoption is important to you. We want to know you are making a permanent commitment to the ongoing need for vaccinations, food, and appropriate medical care for life. We need special parents for these special kitties.
Please feel free to contact us and we'll email our simple Adoption Application or you may download the document from the link.
If you have any questions, just let us know. Contact us here.
Our small adoption fee helps provide food and medical care for those that are not adoptable. Of course, we always appreciate additional donations.
If you are interested in foster or respite care, please click here.
Save
Save
Save
Save