Bright Eyes had major surgery when a bladder stone almost killed her. She was pulled from a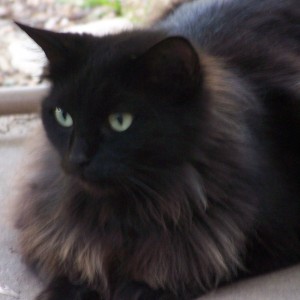 colony and now lives in a room-size condo. As a kitten, she and some of her litter mates had cute little white tufts behind their ears. An attempt was made to socialize them, but they ended up being returned to the colony until she was pulled when she lost so much weight that it became obvious something was wrong.
She also seems to have a hearing impairment. She's very gentle-just extremely shy. Her shyness made her a target of bullying by other cats.
As an indoor cat, Bright Eyes also marks territory when loose. That may be a habit from being in pain and having infections repeatedly for a long time before she had surgery or it could be fear. A special diet, habitual marking, along with hygiene clips and daily cleaning of her bottom to prevent infection, pretty much eliminates adoption into an indoor only home. She also can't be in a colony where she doesn't receive medical care. Therefore, she lives in a 6×8 indoor condo "room" where she can visit other cats through the screen and enjoy supervised playtime, while she receives appropriate diet and medical care daily. The marking seems to be declining as time goes by. We still have hope she may be able to find a very special, very quiet home.