Shop for you, your family, your pets!
Save the lives of senior and special needs cats
Whatever you need from coupons to gifts you can probably find in our shopping mews. The best part is that you can help save a senior kitty for free. The stores where you shop donate to Catnip Casa Cat Refuge. Ready, set, go. Be their hero and fill their tummies while you shop 'til you drop!
Sign up at Goodshop. Get discount coupons too! You shop. Stores donate.
Use Goodsearch at school, work, or home. Help cats for free!

Every dollar buys food, medicine, or a warm bed for a kitty in need of special care.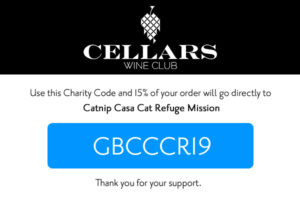 Meet our newest community partner! We love being able to offer you great products and the opportunity to support a cause you love too. Simply use the code in the link on the left when you check out.  Here's the link to Cellars Wine Club. Our code to use at checkout is GBCCCR19, as shown in the blue box.
"Do you know you can purchase gifts AND support our organization at the same time?
Mention Austin Community Blooms, and Catnip Casa Cat Refuge over the phone, in-store, or at check-out online for 5% of your purchase to contribute to our cause.
See Freytag's Florist Austin Blooms page for more information.  The Austin Blooms pull-down on your order form will allow you to select our organization too. Thank you and Freytag's.
Pet Studio Art offers great gifts for any occasion, including custom pet portrait products, and donates 20% of the profit from each order. Local to Austin. Small business. Gives back. We love them! Just remember to mention Catnip Casa Cat Refuge at checkout and we get a donation!
Save an Extra 5% – 10% on Every Autoship order with Chewy!