NEW! Try our One Stop Shopping page. You shop. Stores donate!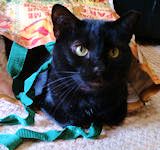 Catnip Casa Cat Refuge Mission: Catnip Casa Cat Refuge is the parent organization, which provides care for cats that require extensive rehab or lifelong pawspice care due to age, disease, or disabilities that do not allow them to remain in their home or community due to medical needs or behavioral challenges. In the case of community cats, they are unable to function in their natural environment. The cats we accept have the potential to live well with specialized care. We strive to keep their environment safe and normal while addressing unique needs, including rehabilitation, along with caregiver training and support to adopt them into loving homes.
We educate owners, caregivers, professionals, and the public, about caring for cats and dogs with challenges caused by age, disease, disabilities, or terminal illness. We strive to develop a network of persons, services, foster homes, and resources, that benefit the community. We actively support TNR (trap/neuter/release) for community cats.
Love & Cuddles Pet Respite Care program
: We strive to keep dogs and cats with their families by providing temporary foster care or funds for boarding when owners must be hospitalized. We do this by partnering with local agencies that serve seniors, disabled, or disadvantaged pet parents without resources. Keeping these pets safe and sending them home when the owner is well benefits the owners' recovery, while also allowing the shelters to use their space for truly homeless pets. Of course, we occasionally end up with animals that need adoption too. We are 100% no kill, and we never give up.
Please do not contact us about taking your cat.
We recommend Rehome for owners who need to find a pet a new home.
We do not take in cats from the public (NO owner surrenders). Our organization partners with community programs that serve seniors, veterans, and disabled persons who may lose their pets without our assistance. We constantly work to expand our network of providers and foster homes. There are many worthy animals and people waiting for help.

CLICK ON THIS LINK FOR MORE INFORMATION ABOUT REHOME.
How are your donations used? Here's the 2018 breakdown. Remember, we have no paid staff and our administrative costs are less than 10%. Administrative costs cover necessary insurance and things like software and supplies to keep the office running. The category labeled "other" includes things like replacing toys, crates, and beds that wear out. Medical expenses increase as senior kitties become more fragile and decrease when there is a loss, at least for a short time. Food has gone up due to a need to move to limited ingredients to manage intestinal disease and food allergies in two of the senior cats. Because our kitties live in a home-style environment, this means we aren't just feeding the more expensive food to one cat.
Save