Remembered with Love
A place to remember the kitties who are no longer with us. We love them and honor them every day by loving their memories in our hearts and loving those still in our care. Please enjoy their stories.
Gandolph
Gandolph (Gandi to those who knew him best) kept the world in suspense. He defied the odds with his medical problems. His behavioral problems (biting unexpectedly and with surprising fierceness) were the complete opposite of his loving and sweet personality like they were beyond his control, which we think they were. It's taken a while to get this tribute written because our hearts have been broken time after time this year.
Still, we do not regret the time and love given and received from these special animals. Gandolph came to us with his sister after they were orphaned when a dog killed their mother. They were barely old enough to survive without her. A neighbor found them where she had tucked them away under a pile of wood. They could easily have starved before they were found.
This brave boy handled all of his challenges with grace and dignity. He never showed signs of giving up when he lost his sight or needed help to get up on a sofa. As long as he could be with the people and cats he loved, he made it clear he wanted to keep going. We applauded him and gave him whatever help we could as long as he had a good quality of life. Gandi held a special place in the office that is very empty now.
Extra
Our spunky little Extra made it to the age of 17. He may have been older, but that's what we know for sure. We always wish we could have held them a little longer. Extra started out totally feral. We earned his trust, and in his last days, he slept in a bed with pillows and people.
The story we'll always remember about him is when Catnip Casa flooded in 2015. As we were opening gates to release the water, the current got quite swift with water almost two feet deep pouring downhill. A little black cat suddenly came washing downhill, swimming like crazy. He ran up Michael's back, jumped off his shoulder, and kept swimming downstream. It's funny now, but everyone was so scared for the little fellow. Despite our fears, he was waiting on the patio for breakfast the next day. He had a huge personality. His favorite thing to do was to tease the dog when he was out in the yard trying to go potty. We will miss him terribly.
Cat
Beautiful and shy, Cat left us too soon, and we don't know why. She was only eight years old. That happens sometimes, regardless of how hard our vets work. Our hearts are broken, as we know are those of everyone who knew her.
This pretty girl's beauty mark was a black heart on her nose. Her claim to fame is a ton of pictures of her with her mouth open in gigantic yawns. Cat was beautiful and knew it. Still, she needed to be with people who understood her. Because she had an unstable life and several returns to another shelter, she was insecure. Her lack of good house manners got her booted out of more than one home and abandoned in one case. She landed in the perfect home where all of her friends had special needs too.
Mr. Gray
If Mr. Gray had been a person, he would have been described as quiet, dignified, and a thinker. His story is a bit more complicated than most, but he loved life in spite of the many health challenges he endured. We often referred to him as Winston Churchill Gray because of his serious expression.
Yet, all that seriousness could also make us laugh. He was the straight man with the dry humor that showed up unexpectedly and "talked" with a puffy ball in his mouth or suddenly whacked another cat with a paw for taking his place–after letting it happen for weeks or months.
Mustache
Mustache was a very special boy. He was FeLV (feline leukemia) positive and had a medical crisis about once a year. The rest of the time, he was healthy and happy until the end. Even better, he lived many years longer than most kitties with FeLV.
This boy loved cuddles, and his special treat was oven-baked chicken greenies. For entertainment, he sat in the sunny window in his room and talked to the neighbor's kitty through the window.
He came to us injured and ill with an infection. We were honored to be able to make his life safe and comfortable.
Sweet Pea
S
weet Pea was a shy, sweet kitty.  She was always smaller than most of the other cats. We know nothing about her past except that she trusts no one. After a lot of work, we could occasionally touch her briefly.
She died very suddenly. Now, we suspect she had an underlying illness. Some diseases are not easily detected. We were very happy for her when the small colony that lives on the Catnip Casa property accepted her. She now had friends, a safe place to live, good food, and love. We will all miss her a lot.
Vinnie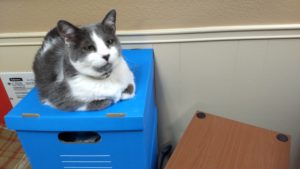 A very special fellow with a zen personality. Vinnie calmly mixed with cats and dogs, ignored most of the cats, and loved TUNA! He was big, strong, and sure of himself. He came to us as a senior when his loving person lost her home.
Vinnie blessed us with many more years. He celebrated his 20th birthday in January 2020. Helping in the office was his specialty. Playing with the little dog, Happy, was his hobby. Vinnie aged with grace and truly was a beautiful old man. We all miss him greatly.
Little Gal (Li'l Gal aka Galadrial)
We lost this sweet girl just before Christmas in 2019. We knew she had a heart murmur and possibly a more serious heart problem. What we didn't expect was to lose her in a few short weeks from a very aggressive form of cancer. There were no treatment options.
This pretty little girl came to us as an orphan with her brother, Gandolph. She loved attention and loved to talk. In spite of her love for attention, she was close to untouchable. She flunked socializing for adoption, but that worked in her favor when we discovered her health problems. She was already where she belonged–in a refuge for special needs cats with medical and behavioral problems. This little girl came with both. Still, we enjoyed her sweet, albeit challenging, quirky personality for eleven and a half years.
Little Gal was one of the original special needs kitties that prompted the founding of Catnip Casa Cat Refuge.
Prince John (aka PJ)
PJ came to Catnip Casa with his friend, Hiss, that passed before him. You can read their story below. We love this little guy for the devotion he gave his friend. The intelligence he showed in caring for Hiss and guiding him, so he stayed safe on the streets and always found food. He took on a big job and did it with all his heart for the rest of his friend's life. In turn, we honored him by taking care of him for the rest of his life.  PJ loved lying on the shelf watching birds in the catio. He ran up and down the tree trunk behind him, sometimes several times, before he sat for a while rather than jump to the shelf. We know Hiss was there waiting for him at the Rainbow Bridge.
Tabbytha
Tabbytha experienced multiple health problems all of her life. They didn't just start in her senior years, although they worsened with age. That's why we referred to her as special needs instead of senior. Tabbytha began her young life visiting the emergency room with high fevers.  Surprisingly, she outlived many other residents before succumbing to autoimmune disease and tumors that we suspect were cancerous. By the time we found the tumors, her health was too fragile, and her age too advanced to put her through biopsies or surgeries. We maintained comfort care and let her enjoy her life as long as possible.
She never liked other cats, but she loved dogs. Her skill in dog training surprised us all. No dog of any size ever bothered her. Of course, we exercised due diligence too. Still, she ran the house, regardless of the species sharing her space.
Tabby's coat matted terribly, regardless of our efforts to groom her. As a result, she received a lion cut twice a year for many years. She looked adorable. However, it was clear that she didn't appreciate our hairstyle selection.
Hiss
Hiss was blind for as long as we knew him. He and his buddy, PJ (Prince John), lived together. They were totally bonded, and we promised we'd never separate them. Hiss was rescued when a neighbor moved after her husband died.
The new owner's were a house-flipping company doing major construction renovations. Hiss and his guide-cat buddy, PJ, were no longer welcome. No one knew Hiss was blind during the years he lived near that home. The stress of age, and the confusion when his world changed, set off severe IBD that required a prescription diet.
Due to his age and difficulty in locating food and litter in a new situation, along with needing a special diet, being dependent on his friend PJ, and years of living only outdoors, life on the street or in another colony was no longer possible, and neither was adoption. We provided them with a special catio-shelter combination to keep them safe and comfortable.
Fortunately, Hiss could be handled–carefully. My favorite feature about this guy was his beautiful black eyeliner.
His buddy, PJ, is very feral. Still, Hiss owed his life to PJ, for all those years, PJ protected Hiss out on the street. PJ appears to be younger. So who saved whom in the beginning? If only we knew the rest of the story of how they came to be together. We lost Hiss to kidney failure. Of course, we will give PJ all our love and support for the rest of his life too. We owe him that for all he gave to care for Hiss for many years.
Save
Save
Save
Save
Save
Save